Unpopular Opinion: I miss Vampire Urban Fantasies books in YA. There was just something about them. So I thought I would stroll down memory lane and recount some of my favorite Vampire books. And though I did read and enjoy Twilight in middle school, Its not on this list! All of these books are ones I would suggest to even Twilight haters, They aren't all YA though.
Here is the list:
The Vampire Academy Series by Richelle Mead
I have read this series three times already I believe and I really want to reread it again soon! If you want a Vampire series that is mostly butt-kicking this is it. The protagonist, Rose is an amazing fighter, She is stubborn and passionate and very protective of her friends. She is probably my favorite protagonist in a YA book. This series is definitely not mostly romance though it does have romance in it. Its funny, action-packed and will draw you in! I can't get enough of this series.
Only a true best friend can protect you from your immortal enemies . . .

Lissa Dragomir is a Moroi princess: a mortal vampire with a rare gift for harnessing the earth's magic. She must be protected at all times from Strigoi; the fiercest vampires – the ones who never die. The powerful blend of human and vampire blood that flows through Rose Hathaway, Lissa's best friend, makes her a dhampir. Rose is dedicated to a dangerous life of protecting Lissa from the Strigoi, who are hell-bent on making Lissa one of them.

After two years of freedom, Rose and Lissa are caught and dragged back to St. Vladimir's Academy, a school for vampire royalty and their guardians-to-be, hidden in the deep forests of Montana. But inside the iron gates, life is even more fraught with danger . . . and the Strigoi are always close by.

Rose and Lissa must navigate their dangerous world, confront the temptations of forbidden love, and never once let their guard down, lest the evil undead make Lissa one of them forever . . .
The Bloodlines series by Richelle Mead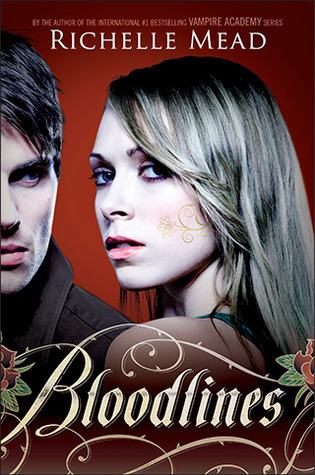 This is a spin-off of the above series. I don't read many spin-offs and I was hesitant to read this one but then I ended up LOVING it. This series follows a group of side characters from the main series with a couple cameos from the characters from the main series popping in. I actually really enjoyed it and will probably reread it after I reread the VA series. The Protagonist in this series actually isn't a Vampire and there are less Vampires in this series so it's a little weird being surrounded by humans again after reading VA and having none around. It gives this series a different feel and it is more mystery than action at first, though some butt-kicking is involved! I also feel like this series has a little more of a romance element in it, but I really like the romance and the couple work for me. There is a little bit of a forbidden love element.
I wasn't free of my past, not yet.

Sydney's blood is special. That's because she's an alchemist – one of a group of humans who dabble in magic and serve to bridge the worlds of humans and vampires. They protect vampire secrets – and human lives. But the last encounter Sydney had with vampires got her in deep trouble with the other alchemists. And now with her allegiences in question, her future is on the line.

When Sydney is torn from her bed in the middle of the night, at first she thinks she's still being punished for her complicated alliance with dhampir Rose Hathaway. But what unfolds is far worse. Jill Dragomir – the sister of Moroi Queen Lissa Dragomir – is in mortal danger, and the Moroi must send her into hiding. To avoid a civil war, Sydney is called upon to act as Jill's guardian and protector, posing as her roommate in the unlikeliest of places: a human boarding school in Palm Springs, California. The last thing Sydney wants is to be accused of sympathizing with vampires. And now she has to live with one.

The Moroi court believe Jill and Sydney will be safe at Amberwood Prep, but threats, distractions, and forbidden romance lurk both outside – and within – the school grounds. Now that they're in hiding, the drama is only just beginning.
The Sookie Stackhouse series AKA The Southern Vampire Mysteries AKA the True Blood books by Charlaine Harris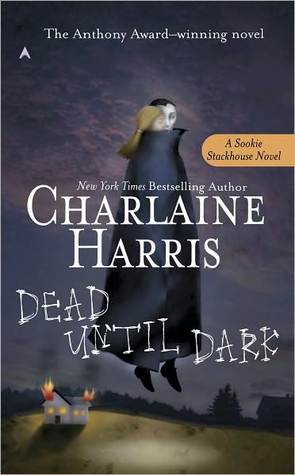 Technically only the first two of those names were attributed to the book series and the TV series was named True Blood after the synthetic bottles blood the vampires drink. This series is definitely not YA and is an adult series as both the books and the show have sexual context. I believe I read the books in High School and my English Teacher suggested I watch the show. I remember my friend convincing me that Alexander Skarsgard eventually looks better once he cuts his hair and she was right! Now I'm in love with him! The book series I thought was obviously better than the show. There was more mystery and characters that got left out. They also followed a different storyline most of the time. I actually haven't read the last book in the book series or watched the last season of True Blood. I know it doesnt end how I want it to and I think I'm afraid to go through the ending. Haha. I would still consider it one of my favorites. I am looking forward to rereading this series.
Sookie Stackhouse is just a small-time cocktail waitress in small-town Louisiana. Until the vampire of her dreams walks into her life-and one of her coworkers checks out….

Maybe having a vampire for a boyfriend isn't such a bright idea.
The goodreads description doesn't tell you much about the book but it's set in Rural Louisiana after Vampires reveal their existence to humans now that the synthetic blood exists and they are no longer forced to drink from humans. Vampires are pretty much treated like the new minorities in this series, they are feared and don't have as many rights as humans do. But don't be deceived into thinking they are the good guys in this book. There's also other supernatural creatures in this book, though they still live in secret among humans.
The Blue Bloods Series by Melissa De La Cruz
The Blue Bloods series is like Vampires meet Gossip Girl. Set in the upper elite of NYC, it turns out most of the rich, influential people are actually Vampires! But Vampires has a different meaning in this book. Vampires are actually Fallen Angels. When they die they are actually saved and reborn again, so they have all lived several lives since The Fall. Except for the Protagonist who is the only Blue Blood to not have been reborn and is existing for the first time. The series is full of mystery, action and also catty Upper class high school drama. I actually haven't finished this series but I just bought the first 3 books and I'm excited to reread this series. It's a long one.
When the Mayflower set sail in 1620, it carried on board the men and women who would shape America: Miles Standish; John Alden; Constance Hopkins. But some among the Pilgrims were not pure of heart; they were not escaping religious persecution. Indeed, they were not even human. They were vampires.The vampires assimilated quickly into the New World. Rising to levels of enormous power, wealth, and influence, they were the celebrated blue bloods of American society.

The Blue Bloods vowed that their immortal status would remain a closely guarded secret. And they kept that secret for centuries. But now, in New York City, the secret is seeping out. Schuyler Van Alen is a sophomore at a prestigious private school. She prefers baggy, vintage clothes instead of the Prada and pearls worn by her classmates, and she lives with her reclusive grandmother in a dilapated mansion. Schuyler is a loner…and happy that way. Suddenly, when she turns fifteen, there is a visible mosaic of blue veins on her arm. She starts to crave raw food and she is having flashbacks to ancient times. Then a popular girl from her school is found dead… drained of all her blood. Schuyler doesn't know what to think, but she wants to find out the secrets the Blue Bloods are keeping. But is she herself in danger?
The Morganville Vampires Series by Rachel Caine
I love this series. I described this series to someone on twitter but I'm sure I sounded like a Spaz. The protagonist is a super smart college girl. She becomes part of this awesome crew of Humans trying to survive in this Town that is run by Vampires and keep ending up pulled into Vampire Politics and fights. I wouldn't say the Vampires are good in this book, but they aren't all bad. Mostly though, They are all Jerks. There is an icy Vampire Queen, A magic house and a crazy vampire scientist. It's seriously Action packed, with a lot of mystery involved. Some romance but a whole lot of friendship! This is not your typical YA vampire series. It's so much better. I feel like it's severely underrated. There are about 15 books in the series although I wouldn't say they are super long. I also enjoy how the author puts a playlist at the end of each book. I have found some really good tunes from them. I really wish this book would get a TV show. It's perfect! A Town run by Vampires! Come on! I can already imagine it on the CW.
College freshman Claire Danvers has had enough of her nightmarish dorm situation. When Claire heads off-campus, the imposing old house where she finds a room may not be much better. Her new roommates don't show many signs of life, but they'll have Claire's back when the town's deepest secrets come crawling out, hungry for fresh blood. Will she be able to face the town's terror or will she drown like everyone else?
What trend in YA do you miss/like the most? Let me know in the comments!
Thanks for reading!